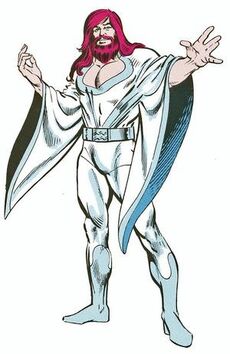 Wundarr
F) Pr4
A) Gd10
S) Rm30
E) Am50
R) Ty6
I) In40
P) Rm30
Health: 94
Karma: 76
Resources: Fb
Pop: 10
Known Powers:
Leaping: CL3000
Null Field: Aquarian's body is constantly surrounded by a null field that absorbs all forms of energy (Light, Electricity, Magnetism, Radiation, Sound, Gravity, etc.). This field reduces all attacks by -10CS.
Energy Absorption: Aquarian abosrbs energy at 1 point per round. Each time he uses his strength or leaping ability, this reduces back to zero. If the total accumulated energy reaches 100, it is released in a massive, involuntary Un intensity Force Blast against everything within 10 areas.
Equipment:
None Talents: First-Aid
Ad blocker interference detected!
Wikia is a free-to-use site that makes money from advertising. We have a modified experience for viewers using ad blockers

Wikia is not accessible if you've made further modifications. Remove the custom ad blocker rule(s) and the page will load as expected.