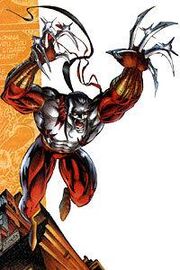 Robert Bearclaw
F) Am50
A) Rm30
S) Ex20
E) Am50
R) Gd10
I) Am50
P) In40
Health: 150
Karma: 100
Resources: Ex
Pop: 5
Known Powers:
Claws: In material, Rm Edge
Teeth: Ex Edge
Rage: Ripclaw can enter a rage that allows him to ignore Stun and Slam results and increases his Fighting by +2cs and his Strength and damage by +1cs, his Reason and Intuition drop to Pr (but not for initiative)
Spirit Form: With Meditation, Ripclaw can create an astral form with Am ability.
Heigthened Senses: Am vision, smell
Tracking: Mn
Pain Resistance: Ignore the first 50 damage in combat.
Body Armor: Gd protection vs. Physical and Energy
Equipment:
None
Limitations:
Pacifism: Ripclaw is a pacifist by nature and will gain no Karma when defeating an opponent he attacked first. Defeating an opponent which attacked him first will earn him 20 additional Karma.
Talents: Hunting, Martial Arts B, E, Acrobatics, Detective/Espionage
Ad blocker interference detected!
Wikia is a free-to-use site that makes money from advertising. We have a modified experience for viewers using ad blockers

Wikia is not accessible if you've made further modifications. Remove the custom ad blocker rule(s) and the page will load as expected.